Scholarships & financial aid
The University of Tours does everything in its power to guarantee its students a peaceful academic year. As a student or future student, you may be eligible for certain types of aid: grants based on social criteria, merit-based aid, mobility aid, allowances, emergency aid funds, etc. Here you will find the essential information on financing your higher education studies.
Social criteria grants
Social grants are intended to help students finance their studies in higher education.
The higher education grant based on social criteria is awarded to students facing material difficulties. It constitutes additional assistance to that of the family and does not replace the family's obligation to provide maintenance (see Articles 203 and 371-2 of the Civil Code).
Allocated on the basis of parental resources and expenses, for one academic year, it is paid to students under 28 years of age on 1 September of the academic year. The request is established each year, by the constitution of the Student Social File.
The procedure is done exclusively on the internet from 15 January on the platform for this purpose and generates a paper file which must be returned to the address indicated as soon as possible. Late applications will delay the first payment of the grant.
In all cases, the student must meet the conditions of attendance, presence at examinations and education. If this is not done, the grant will be withdrawn and any sums unduly received may need to be returned to the C.R.O.U.S.

The grant is paid by the Crous of Orléans Tours in 10 monthly instalments, from September to June.
Students who are not admitted to the next year must provide evidence of:
60 ECTS credits (2 semesters) to obtain a 3rd bursary entitlement;
120 ECTS credits (4 semesters) to obtain a 4th or 5th bursary entitlement;
180 ECTS credits (6 semesters) to obtain a 6th bursary.
This rule no longer applies to students admitted to the next year.

Note: Students with grants are exempt from registration and social security fees, but must pay for preventive medicine and, where applicable, optional fees (sports pack, cultural passport).
Merit-based aid
Merit-based aid is granted to students who received a "very good" distinction in the last session of the French baccalaureate and who receive a higher education grant based on social criteria or a specific annual allowance.
Merit-based aid is not subject to a specific application by the student.
The Crous identifies students who may be applicable to receive this aid after having taken note of the students who were awarded the "very good" distinction in their baccalaureate from the previous year.
The final decision on whether or not to award merit-based aid is then taken by the Rector and notified to the applicant.
Merit-based aid is paid in 10 monthly instalments from October to June over a 3-year period. The amount is €900.
It can be combined with international mobility aid and one-off aid granted under the specific aid scheme.
In order to receive support for 3 years, the student must attend classes and exams regularly and not repeat a year (unless the repetition is based on medical reasons).

More information at https://www.messervices.etudiant.gouv.fr/envole/

Special one-off or annual grants
In order to meet the needs of students who are not eligible for a grant based on social criteria (family breakdown, returning to study after the age of 28, etc.), an annual allowance may be granted after the file has been studied by a social worker and reviewed by a commission.
Managed by the CROUS, this aid is intended for students under the age of 35 who are enrolled in a higher education course that entitles them to the student social security system. To apply, the student must contact the university's social services.
In order to respond to the unforeseeable difficulties of students with or without grants, occasional assistance may be granted, after evaluation of the situation by a social worker and review by a commission.
Contact:
Clous - Social Service
60 Rue du Plat d'Étain- Building H
37000 - Tours
Email: secretariat-social@crous-orleans-tours.fr
Tel: +33247604246

Exemption from university fees
Students who are in financial difficulty, who have lost their bursary entitlement, etc. may sometimes be eligible for a fee exemption.
apply for an exemption


Housing support
Most student tenants are eligible for assistance from the Family Allowance Fund (Caisse d'Allocations Familiales), provided that the parents do not receive child benefit for them if the student is under 20 years old. To obtain this allowance, the student must be named on the rental contract.
Two types of aid are then possible:
- ALS (Social Housing Allowance): this concerns all students, tenants, sub-tenants or students in flat shares. You can now calculate the aid you can receive on the CAF website. The aid can be paid to the students or to the landlords, with the students paying only their share of the rent.
- APL (Personalised Housing Assistance): this concerns all students who are the main tenants of housing that is the subject of an agreement between the owner and the State.
More information on the CAF website.
International mobility support
This aid is limited and is intended for students with a grant on social criteria who are studying abroad for a term or semester as part of their university course. They must submit a file to the University's International Relations Department on the International portal of the University of Tours.
Contact: International Relations Department (DRI)
60, Rue du Plat d'Etain
37020 TOURS CEDEX 1
Email: international@univ-tours.fr
Tel.: +33247366704

Other help is available
Other assistance is offered by the General Councils, the Ministry of Overseas Territories (mobility passport for students from overseas territories), certain municipalities, companies, foundations, etc.

Special assistance from Crous
For students in difficulty, the Crous (more information on the platform) has set up emergency aid, which is available according to your social criteria and can be varied, for housing or for daily life. To help you with this process, you will find on echosdunet.net guides to lowering your daily costs, particularly for phones. For all questions, the Crous has set up a specific line for these requests at +33806000278.
More information
Exemption from fees
Apply for your Student Social File before 15 May!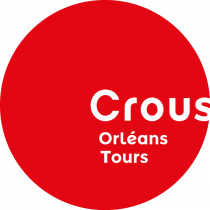 > The CROUS has made this portal available for easier access
Read more