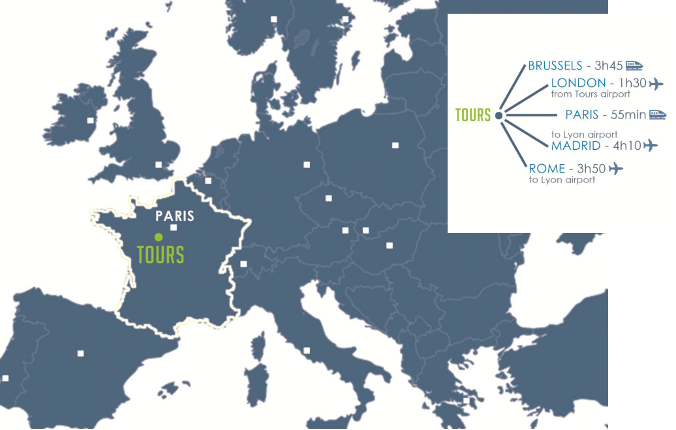 Tours can be easily reached by train, bus, plane or private shuttle.
You need help to compare all the different means of transport in France: buses, trains, flights and carpools?
Plan your journey with a metasearch engine:
- Omio
From Paris:
By carpooling €
There is a popular carpooling website in France called « Blablacar »
You can find a carpooling from the airport or from Paris to Tours for about 20€.
By bus €
Low cost bus lines run from Paris to Tours coach station located in the city center of Tours. You can check out Flixbus or OuiBus companies.
It takes about 5 hours between the 2 cities and it costs less than 20€.
In Tours, all these buses' departures and arrivals take place at 168 rue Edouard Vaillant, which is 5 minutes walking from Tours train station.
By train €€
From Roissy-Charles de Gaulle airport
The TGV train station is located in terminal 2, inside the airport. There are direct trains for Saint-Pierre-des-Corps only (and not to Tours station).
You can book a train for Tours station and when you get to Saint-Pierre-des-Corps you will take the shuttle (train).
The journey takes about 2 hours.
There is another possibility if there is no train which suits you: from the Roissy-Charles de Gaulle station in terminal 2, you can take a RER* and then a subway to Paris Montparnasse station or Paris Austerlitz station. From these stations, there are also trains to Tours.
A RER B ticket to enter inner Paris costs 10,30€.
* RER = suburban trains in the Parisian area, «Réseau Express Régional»
From Orly airport
You can take the bus 91.10 (one ticket costs 2€) either at Orly 1-2 exit 22 stop 8, or at Orly 4 exit 47, stop 3. It runs every 30 to 60 minutes and take you to Massy-TGV train station.
At Massy-TGV train station, there are direct trains for Saint-Pierre-des-Corps or Tours. It costs from 30 to 70€.

From Paris-Montparnasse train station
You can take a train from Paris-Montparnasse to Tours. The journey lasts about 1 hour.
From Paris-Austerlitz train station
You can take a train from Paris-Austerlitz to Tours. The journey lasts about 1,5 hour.

By private shuttle €€€
Lots of companies offer a shuttle service from the various airports to Tours (Pickmecab,Transpers, etc…).
Count more than 200€ for 1 person.
From Tours airport:
Tours has one airport (Tours Val de Loire). Depending on seasons, it has international connections with: London Stansted, Porto, Marrakech and Dublin.
> By tram: walk about 15 minutes until « Terminus Vaucanson » stop and take the tram until « Gare Vinci ».
> By taxi: you can take a taxi directly outside the terminal. Usually, there are taxis waiting after each flight arrival.
It costs from 15 to 30€ to go to Tours city center.