Erasmus + charter 2021-2027
The University of Tours is strongly involved in the European higher education area and aims at developing a smart, sustainable and inclusive growth.
The University of Tours (UT) is a multidisciplinary higher education institution created in 1970 offering Bachelor, Masters and Doctoral degrees. We welcome each year more than 30,000 students (11% of them are international students). UT cooperates with a wide network of higher education institutions in Europe (194 universities in 28 countries throughout Europe) and worldwide (over 87 universities in 23 different countries) which allows us to encourage student and staff mobility.
Moreover, UT is involved is many international or European research and study projects (Erasmus Mundus, International Credit Mobility, Erasmus Strategic Partnership, Jean Monnet Actions). UT has been awarded the « Good Practice » quality label by Erasmus + French National Agency for the recognition of our Erasmus project management, the two-star label « Bienvenue en France » by Campus France for the quality of incoming students service and the StudyPortals Award for Excellent International Student Satisfaction.
UT sets the following goals:
-increase participation in mobility projects in Europe and beyond (mobility between programme countries and mobility with partner countries) aiming for more inclusive, sustainable and mixed mobilities,
-contribute to the improve the quality and attractiveness of European Higher Education by supporting teaching staff in the launch of new Erasmus Mundus Joint Masters degrees,
-help developing good practice and innovation by exploring Key Action 2 opportunities.
UT is aware of the challenges of internationalisation and short-term changes that are occurring. We are committed to comply with the Erasmus + Charter 2021-2027 objectives and principles.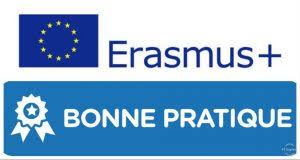 Erasmus +

Erasmus + Charter 2021-2027