Our recurring events
Discover the scientific culture events


Détours in Science
Each year, two days of conferences and debates for the general public and students.
The University of Free Time
Accessible to all from the age of 18, the UFT does not issue a diploma or certificate but invites you to discover and share the knowledge that the speakers are willing to pass on, to cultivate yourself in a friendly atmosphere.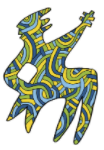 Wednesdays at Thélème

Cycle of conferences for the general public which aims to highlight the work and skills of researchers and research teams at the University of Tours and to promote the circulation of knowledge in all fields.