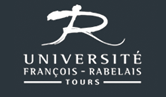 Grants for a PhD program in Health & Biological Sciences

May 13, 2014

-

May 14, 2014

The Doctoral School "Health, Biological Sciences and Life Chemistry" (ED 549, SSBCV), joint between Tours and Orléans, includes about 320 researchers and 280 PhD students. The Doctoral School will prosose to fund the PhD program (3 years, starting on September 2014) of several students on different topics, listed bellow.

International Master's program: graduation ceremony

The graduation ceremony of international Research Master's programs was held on June 27th, in Polytech'Tours. These Master's degrees are intended for non French-speaking foreign students. Teachings are made in English, and classes of French come to complete the training.

The spacial perception of the Medieval Near East

April 5, 2013

-

April 6, 2013

Organised by the University François-Rabelais of Tours-CNRS, CITERES Équipe Monde arabe et Méditerranée (EMAM), the department of History and Archeology. With the support of the UMR 8167 « Islam médiéval » (Paris1/ParisIV/CNRS/ EPHE).

Summer school: Temporalities of food

August 26, 2012

-

September 2, 2012

The University of Tours and the European Institute for the History and Cultures of Food (IEHCA)announce the tenth summer school in Tours.