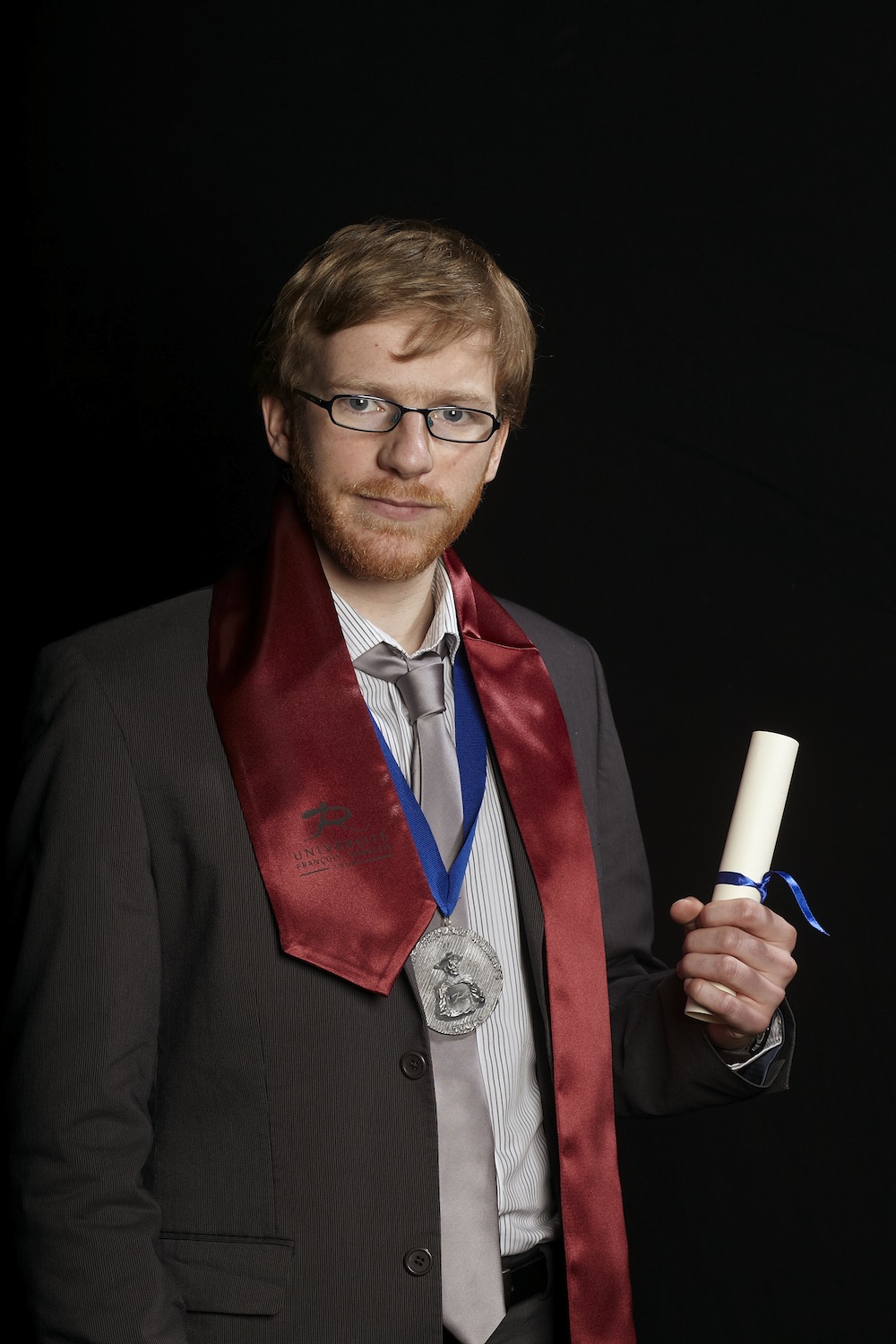 What is your professional / educational background and what is your Ph.D. Topic?
After my high school diploma (scientific, with a focus on Life and Earth Sciences), I did all of my studies at the University François Rabelais in Tours. First at the Medical School, where I attempted twice to pass the competitive entrance exam; then at the Science and Technical Studies Department, where I received my Bachelor's in Life Sciences. I must say that the knowledge as well as the work habits acquired in medicine were a strong, comfortable base on which to build for my Bachelor's degree. Afterward I enrolled in a Master's (Integrative and Evolutionary Biology) with the idea of passing the competitive teacher's exam during the school year. While in the first year, I did an internship in a research laboratory (where I would later do my dissertation). This internship was so interesting that I forgot to do the teacher's exam. After this experience, I did my second year with a focus on research and did another internship in the same laboratory. At the end of my Master's, my director came to me and proposed a dissertation which was the continuation of the work I had already done.

My dissertation title is: "On the Selective Interplay in an Acoustic Moth: a Study of the Origin, the Evolution, and the Maintenance of Sexual Behaviors." It consists of studying the simultaneous influences of natural and sexual selection on the origin, the evolution and the maintenance of sexual traits in the Lesser Wax Moth. In this moth, the males form sexually-available groups (leks) and produce an intense ultrasonic song to attract females. The females choose a partner based on acoustic characteristics specific to the male song. However, these ultrasonic sexual signals of the male can also attract predators: insect-eating bats. In my studies, I looked at how these different factors interact in (1) the evolution of female choice, (2) the maintenance and evolution of the lekking, and (3) the origin of the sexual acoustic communication.

How has the Ph.D. process been for you?
In general, my dissertation took place in excellent conditions, as part of a close team. I appreciated my collaborations with researchers from other laboratories. It is very enriching to do research in an environment that is different from the usual and it allows us equally to build strong professional relationships. Participating in international conferences is also fundamental from this point of view, even if presenting is always stressful. The publication of my first article as first author was also a high point of my dissertation.

What have you learned from this experience?
During my dissertation I was fairly free in the way I organized my research. This was very instructive, personally and professionally. The dissertation is a period of life, with its highs and lows. Compared to other programs of study, we must learn to face failure (for example, when experiments do not work) and learn to put failures behind, learn lessons, and go on. It is not an easy exercise but necessary to advance. This life experience equally helped me to understand my abilities, my strengths and my weaknesses.

From a professional point of view, my dissertation also allowed me to add to my CV. Because my adviser gave me a certain freedom, I had the impression to have truly learned the "multifaceted" role of a researcher. In concrete terms, the dissertation taught me to manage a research project (from the germ of an idea to the publication of the results), to refine my scientific thinking, to become an expert in my research field, to master the latest scientific techniques, to exchange and to collaborate with other laboratories, to communicate about my work in written and oral forms, for the general public as well as for the scientific community, to overcome technical, human or administrative difficulties, to organize events, to teach, and to direct students with their own projects... this unique bank of multiple competencies constitutes for me a plus in my doctoral program.

What advice would you give to a student who was considering a Ph.D.?
A dissertation is an in-depth project requiring perseverance, patience, endurance and passion. It's a long-distance race. Know your adviser and find out about the general environment of the laboratory in which you will work, because you will spend three years with them. Also, look past the dissertation to the job market, as the dissertation is only one step.

What are you doing now?
I defended my dissertation at the end of November, 2012 and am now looking for a post-doctoral position, preferably in a foreign country.