BACHELOR Information technology and Computer science
The Sciences and Technologies Degree, with Information Technology & Computer Science as the majoring subject, provides technical and theoretical IT and computer science training that is generalist enough to enable students to pursue studies in any type of Master specific to the field. By integrating corporate culture awareness classes (management, project management, communication, corporate management), by emphasizing specific skills used in software development and in database administration during the third year and by integrating a long traineeship at the end of the course of studies, the degree also enables students to enter the employment market if they wish. The course also includes access to a professional degree (the QSSI) at the end of L2.
It is worth mentioning that an international adaptation year has been implemented, where the university plays host to non French speaking foreign students, from L1 onwards, as part of its partnerships with foreign universities. Once they have been selected in their universities, these students follow French classes for at least one year in their own countries. Adapted pedagogy is offered to them during L1 so that they may fully integrate the curriculum during L2. This international programme, which began in academic year 2009-2010, has proved to be successful: the success rate is higher for this programme than for that of a general programme.
Discipline keywords: Databases, Software engineering, Information technology, Internet, Java, Mathematics, PHP, Programming, Network, WEB.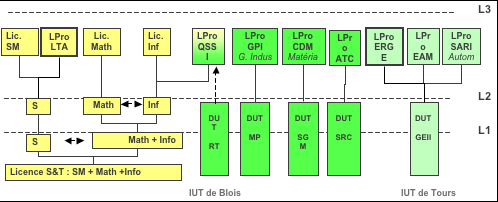 Our partnerships are mainly concentrated on our international exchange programmes:
European Computer Science Programme: Hochschule für Angewandte Wissenschaften Hamburg (Germany), Universidad de Burgos (Spain), Instituto Politécnico de Coimbra (Portugal), Turun Ammattikorkeakoulu Turku (Finland),

Université Paul Verlaine de Metz (France), Università Ca' Foscari Venez (Italy), Universitatea de Vest din Timisoara (Romania).

Herriot-Watt University Edinburgh (Scotland)
Beijing International Studies University (Dem. Rep. of China)